Upcoming Events
2022 Incidents
January
34
February
19
March
27
April
42
May
41
June
44
July
44
August
September
October
November
December
Total
251
Past Incidents
2021
413
2020
476
2019
381
2018
571
2017
730
2016
681
2015
723
2014
746
2013
585
2012
617
2011
879
2010
681
2009
523
2008
559
Web Counters
Website Visitors
Since
September 9, 2007

Visitors Today
Aug 16, 2022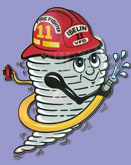 By President Mark Farese
November 25, 2021
First off, the membership of the Iselin District 11 Fire Dept would like to wish everyone a very HAPPY THANKSGIVING!!
Secondly, If you are going to be baking and cooking for long periods of time, DON'T FORGET to open a window or two a couple of inches each to let fresh air in so the carbon monoxide doesn't build up.
Lastly and most importantly, if you are going to fry your turkey please follow the safety instructions that come with the fryer.
1- DO NOT USE INDOORS.
2- DO NOT OVER FILL THE POT WITH OIL.
3- USE OUTDOORS. NEVER ON A DECK OR IN THE GARAGE. USE AWAY FROM THE HOUSE.
4- MAKE SURE THAT THE TURKEY IS FULLY DEFROSTED AND DRY.
Follow these RULES for a SAFE, INJURY FREE, FIRE FREE & HAPPY THANKSGIVING!!!!!
https://www.facebook.com/watch/?v=608216046606048