Upcoming Events
2021 Incidents
Jan
22
Feb
22
Mar
32
Apr
29
May
33
Jun
35
Jul
35
Aug
Sep
Oct
Nov
Dec
Total
208
Past Incidents
2020
476
2019
381
2018
571
2017
730
2016
681
2015
723
2014
746
2013
585
2012
617
2011
879
2010
681
2009
523
2008
559
Web Counters
Website Visitors
Since
September 9, 2007

Visitors Today
Aug 02, 2021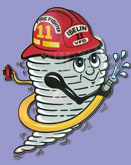 HAPPY PURIM TO ALL OF OUR FRIENDS THAT CELEBRATE!!!
By President Mark Farese
February 25, 2021
Purim, (Hebrew: "Lots") English Feast of Lots, a joyous Jewish festival commemorating the survival of the Jews who, in the 5th century BC, were marked for death by their Persian rulers. The story is related in the biblical Book of Esther. Purim is celebrated among Jews by: Exchanging gifts of food and drink known as mishloach manot. ... Eating a celebratory meal known as a se'udat Purim. Public recitation ("reading of the megillah") of the Scroll of Esther, known as kriat ha-megillah, usually in synagogue.