Upcoming Events
2020 Incidents
Jan
30
Feb
34
Mar
41
Apr
22
May
27
Jun
40
Jul
52
Aug
Sep
Oct
Nov
Dec
Total
246
Past Incidents
2019
381
2018
571
2017
730
2016
681
2015
723
2014
746
2013
585
2012
617
2011
879
2010
681
2009
523
2008
559
Web Counters
Website Visitors
Since
September 9, 2007

Visitors Today
Aug 09, 2020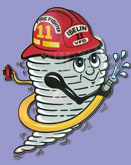 Guestbook
Welcome to the Iselin Fire Department Guestbook. Your feedback is important to us. Feel free to leave your comments.
| | |
| --- | --- |
| Page of 2 [ Back | Next ] | Records 31 - 45 of 45 |
Signed on April 18, 2008 at 4:25 PM
Guest Name:
Marcelo C daSilva
Location:
Miami FL
Comments:

Glad to see my old neighbors (Melletts) supporting the Department. Great webpage!
Signed on March 16, 2008 at 12:41 PM
Guest Name:
District 9 Firefighters
Web Address:
https://www.stbaldricks.org/participants/team_info.html?TeamKey=2008-3217
Comments:

Hey guys, great job with the pancake breakfast, good to see you active in the community.

Your brothers across the tracks are shaving our heads for cancer on March 30, for the annual "St.Baldrick's" event. Its all in the name of conquering childrens cancer, and we are hoping to get some donations from people who would like to see us "go bald" in solidarity with kids who typically lose thier hair during cancer treatment. Go to www.St.Baldricks.org and support your brothers in their fight against kids cancer!!!
Signed on February 24, 2008 at 4:13 PM
Guest Name:
Glen Bordas
Rank/Title:
Firefighter "The Guy From Maine"
Location:
Topsham Fire Department, Maine
Comments:

Iselin Fire Company 11:
Thanks for the great hospitality shown by the members of Iselin Fire Company 11. I had a great time over the couple of days spent with the brothers and training together on the EXO.

To All: Stay safe and keep in touch.

Respectfully,
Glen "The Fireman From Maine"
Signed on January 07, 2008 at 7:00 PM
Guest Name:
Trela Girls
Comments:

Congratulations to all the new officers....Wishing you all a healthy and safe year ahead....Thank you is sometimes not enough for all you do.. (Take care of Santa for me... Mrs. Clause)
Signed on November 06, 2007 at 2:47 AM
Guest Name:
Sheryl Myers
Comments:

My grandfather, Raymond Corcoran, and his brother, Bert Corcoran, were both firemen at the Harding Avenue firehouse. My grandmother, Lillian Corcoran, was president of the ladies auxiliary.
Signed on October 18, 2007 at 10:34 PM
Guest Name:
Axe
Comments:

Why is there no pictures of the Woodbridge Commons fire?
Signed on October 04, 2007 at 5:26 PM
Guest Name:
Shannon Kucsera
Comments:

My grandfather James Wilton and My uncle Charlie Wilton were both fire fighters there in Iselin...
Signed on September 18, 2007 at 10:07 PM
Guest Name:
Kevin Good
Comments:

Awesome website IFD! Keep up the great work and stay safe.
Signed on September 12, 2007 at 6:53 PM
Guest Name:
Dina
Comments:

Great job on the site! I have some pictures for you guys to add.
Signed on September 12, 2007 at 11:20 AM
Guest Name:
Melissa
Comments:

You guys did such a great job on this site! It looks awesome!
Signed on September 11, 2007 at 12:10 PM
Guest Name:
Jackie
Comments:

Very impressive! You guys did a great job!
Signed on September 10, 2007 at 7:39 PM
Guest Name:
Wayne Tasaki
Rank/Title:
Asst. Captain Avenel EMS
Location:
Avenel NJ
Comments:

Keep up the good work this is a great page!!!
Signed on September 10, 2007 at 9:39 AM
Guest Name:
Michael Trader
Rank/Title:
Assistant Chief
Web Address:
sfc31.com
Location:
Chester County, PA (outside of Lancaster PA)
Comments:

Really nice site, great job! Be safe out there
Signed on September 09, 2007 at 10:27 AM
Guest Name:
kc
Comments:

the site looks great!
Signed on September 09, 2007 at 8:30 AM
Guest Name:
Harold Dawkins
Rank/Title:
Firefighter, Web-master, Fire Photographer
Web Address:
erfdna.org
Location:
Richmond County N.C.
Comments:

Great site. Another great job by Ron and his staff. You should be pround of this one . Keep up the good work and be SAFE.
| | |
| --- | --- |
| Page of 2 [ Back | Next ] | Records 31 - 45 of 45 |